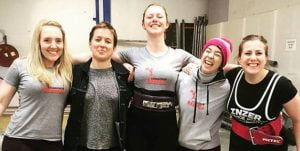 What Edinburgh Barbell Offers you at a glance.
Access to 44 sessions a month in our own performance facility.
A programme personalised to your strength level and ability which changes and adapts every month.
Coaching and feedback every session.
Access to a welcoming training group that will push you on to things you didn't think you could ever do before.

Upbeat and fun training sessions.

Help rehabbing and recovering from Injury

Conditioning and Individual work ons

Competition preparation and Peaking

Come and get your swole on with people who think like you.

Help with all of your training problems regardless of what they may be.
All for £60 per month.
Don't take my word for it (I wouldn't trust me either to be fair!)
Why Does Edinburgh Barbell Exist?
Edinburgh barbell is the biggest powerlifting, weightlifting and strength training club in Edinburgh.  Situated in the heart of the city within our own bespoke training facility based in Swanfield in Leith.
Despite Edinburgh's size and diverse nature, there isn't really much in the way of powerlifting, weightlifting or strength training focused groups, spaces or gyms.  Edinburgh barbell is a place where lifters can feel at home in Scotland's capital.   

I've been lifting and coaching in Edinburgh since 2007 and whilst there has always been access to fantastic facilities with gyms like the Pleasance in the centre of the city there has never been much designed with lifters in mind.
That's where Edinburgh Barbell steps in. 

By far the best place to train powerlifting and strength training in Edinburgh. Good people, a friendly but competitive atmosphere and coaches who know their stuff through years of experience. You get better and stronger without any gimmicks or bullshit! – Tasmin Capmbell. GB powerlifting team member, Silver medalist 2017 Western European Championships (u72kg class)
Founded in July 2016 we set out with the manifesto to provide lifters with
Progressive and intelligent programming designed to help you get stronger at a sustainable pace during the year and help you to remain injury free. 
Great and experienced coaches who aren't just technically excellent but are also good communicators and personable.  We don't hire robots we hire people who are good at teaching other people how to lift.
Bespoke training spaces where the club are the only people in the gym, you don't have to worry about Mr Curl in the squat rack or Mrs Gym Selfie at Barbell.  People are there to train and enjoy being at the club.
Relaxed environment with a performance edge.  We are pretty chill at barbell nobody is gonna get up in your face or spout silly slogans when you are lifting.  There is a healthy bit of competition which is great for a lifting environment.
Loud music and a buzzing atmosphere.  We aren't trying to please all of our members, we are trying to get these gains!  That mean's we like loud music and people working hard!
An environment where only your best is good enough.  No one's gonna tell you something is good when it's not good enough at Barbell, we expect our members to move well and to train properly because it's the only way to get good results and not get hurt.
A real community of lifters and people who share each other interests and hopefully each other's sense of humour.
Our Training Time Table (Updated 2nd of September 2018)
Monday to Friday AM Sessions (06:40 – 09:00) and PM session (16:00 – 20:00).

Saturdays 10:00-12:00
Location –
Cast Iron Strength Gym – 10 Swanfield, Edinburgh, EH6 5RX
We have free parking every day of the week.
I'd been dabbling in weight training for a couple of years, not sure what I was doing but going through the motions of what little I did know. Joining Edinburgh Barbell was the best thing I could have done, I've learned so much and not only is it hugely motivating working out with other people, everyone is a good laugh and there's a great atmosphere which makes you look forward to your next session. – Katy Matheson, Gold Medalist Eastern Open 2017.
Where can you Find Us?


We have our own facility in Leith Edinburgh which we opened in September 2018 (10 Swanfield, EH6 5RX, Edinburgh) we have 7 racks, over 2000kg of calibrated and competition plates, numerous competition powerlifting and weightlifting bars and everything else you need for a full powerlifting, weightlifting, strongman or sports conditioning program.
Edinburgh Barbell is one of the few places in the UK where you can come and train in a performance standard environment open to the public.
We operate a yearly perodised programme

We help you to prepare and peak for competition

We can help you to rehab from injury and get back to strength

We offer consultation with performance standard physiotherapists and Massage therapists.

We have lifters who have gone on to compete at world and medal at European championships.

We train beginners.

We offer conditioning sessions and individual work-ons
If you want to pop along and see what our sessions are like then please feel free or alternatively, if you just want to train with us for the day we offer a drop in rate of £10
 
Frequently Asked Questions –
Do I have to lift to join Edinburgh barbell?  Absolutely not!  Lots of our current members started lifting with us.  We love taking on people who have had no experience of training before as your a blank canvas and we get to help you start out lifting with your best foot forward.

Do I need a gym membership to join Edinburgh Barbell?  No all membership options include membership to our gym.

Will safety training be provided?  We will take all new members through the basics of how to load/unload safely, how to spot each lift and how to ensure you are keeping the lifting space as safe as possible for you and those you are training with.

Is there a contract?  Edinburgh barbell works on a month to month basis with freezing or canceling of your membership dues available on request.  We try to make every element of the payment process as convenient and stress-free as possible.

Can I train with Edinburg Barbell as a one-off?  We offer a sessional rate of £10 for anyone who wants to pop along and join in.  Please understand that these are group sessions and we will try to give you as much attention as we can but will not jeopardise our other members to deliver a personal training session.  If you want to drop in then we would advise you be of an intermediate level or higher.

Do I have to train 6 times per week?  No, we provide as many sessions as we can so our members have flexibility and options of when they can train.  Most programmes are 3-4 day per week with an optional 5th session for accessories.

What programmes do you offer?  We offer a novice powerlifting and weightlifting programme.  Peroidised powerlifting and weightlifting programme that works on a month to month basis these are appropriate for intermediate to advanced lifters.  We also offer programmes for general preparation for athletes.  There is also an option for an individual programme delivered on a weekly basis for £100 per month (access to EBB sessions included).

What should I wear to training?  Normal athletic wear (runners, t-shirt, leggings/shorts/tracksuit bottoms) is perfectly acceptable.  You may wish to invest in some training aids like lifting shoes, belt, and other accessories but this can be done as you progress.

Do I have to compete?  No, whilst we encourage our members who want to compete and help them to do so the club doesn't require our members to lift at competitions.  If you never want to compete and just enjoy the training then that's awesome. Likewise, if you want to compete will give you all the help you need to do so.